Milverton Place is a resident funded housing option called Equity Life Lease which is a convenient lifestyle option for residents 55 and older.
Open House: October 1st
2pm – 4pm
Unit 107: One Bedroom as seen below…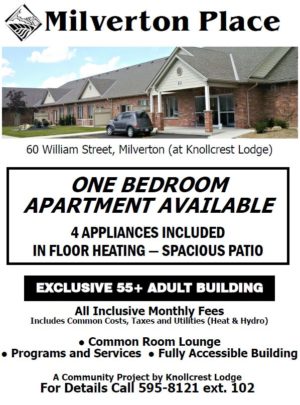 I Love My New Home at Milverton Place - Click to Read Testimonials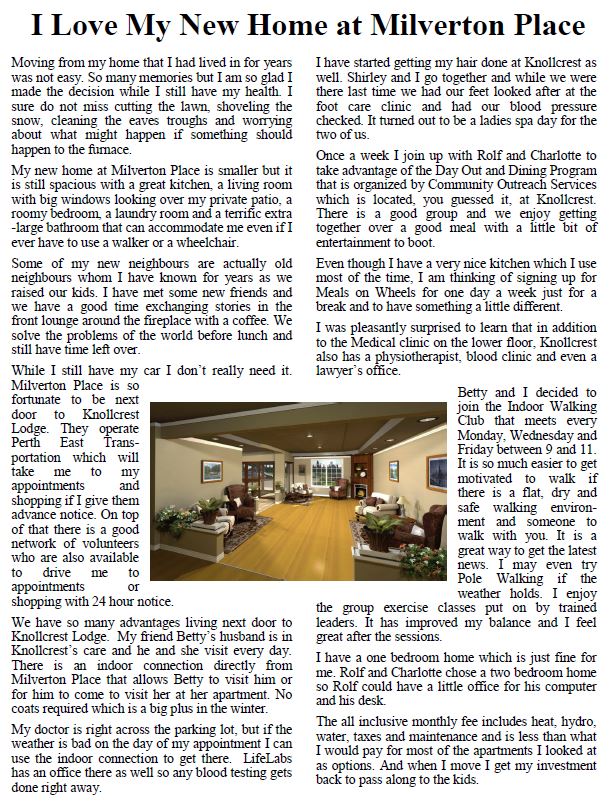 Located in the quaint, timeless village of Milverton and next door to Knollcrest Lodge, this exclusive seniors building of only twelve apartments borders on beautiful rural farmland.  Enjoy a carefree retirement lifestyle that makes every day living friendly, easy and enjoyable.  You are so close to everything you need.
Amenities
Common room lounge
4 appliances
Ensuite laundry
Spacious private patios
Programs and services
Fully accessible building
Residents are able to enjoy the many amenities we have to offer including services through Community Outreach such as; Meals on Wheels, Perth East Transportation, Foot Care Clinics, Volunteer Transportation, Emergency Response System, CHAP Blood Pressure clinics, Seniors Day Out & Dining Programs, Urban Polling, "S.W.I.F.T Exercise Classes, Indoor Walking Club, Friendly Visiting, Stop and Shop!
Photo Gallery