"Milverton's Knollcrest Lodge wins award for innovative program that helps seniors keep their independence and dignity when eating, getting dressed and building strength"
(Stratford Beacon Herald)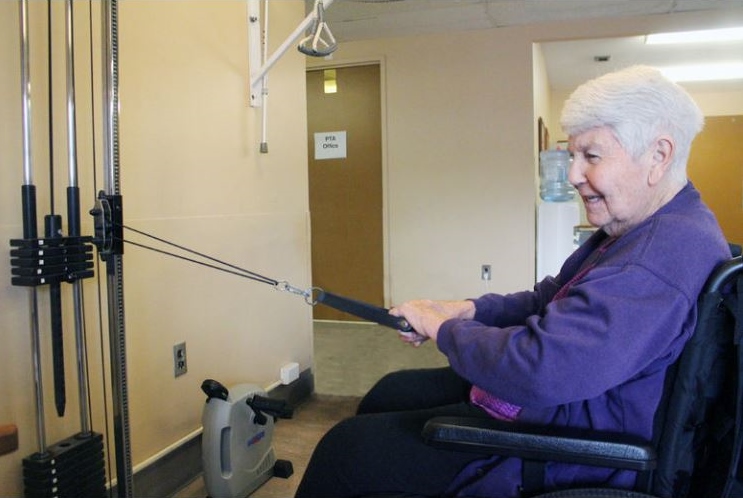 Knollcrest Lodge welcomed Megan Stacey from the Beacon Herald on Friday June 23rd for an interview with Staff and Residents on our Innovation and Excellence Supporting Seniors Award
To read the full article please
Click Here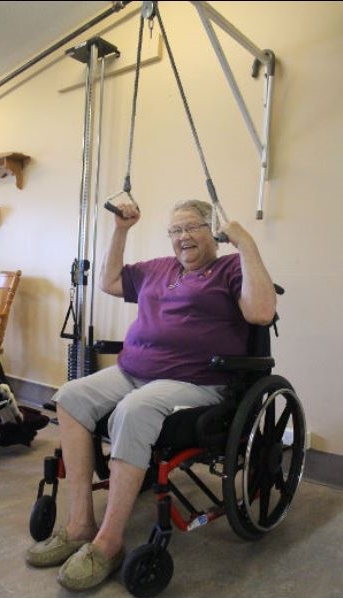 Innovation and Excellence Supporting Seniors Award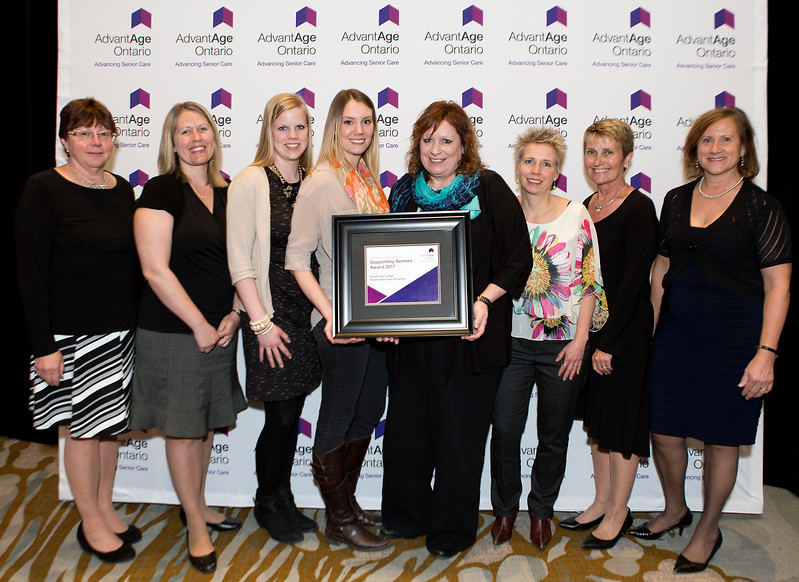 On Friday April 21st, Knollcrest Lodge was recognized for their Restorative Care Program and received the Innovation and Excellence Award for Supporting Seniors at the 2017 AdvantAge Ontario (OANHSS) Convention.
Trillium ROOTS Community Fund Donates $5,000 to Knollcrest Lodge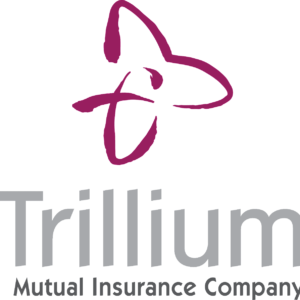 The ROOTS Community Fund is pleased to support Knollcrest Lodge in Milverton.  This donation has been used to assist in the purchase of much needed equipment at the lodge.  Knollcrest Lodge is a long term care home, outreach service and community wellness hub serving Perth County.
Presenting a cheque to Knollcrest Lodge are (from left to right): Paula Culbert, Trillium staff, Susan Rae, CEO of Knollcrest Lodge and Margaret Jack, ROOTS Council member.
The Trillium ROOTS Community Fund was established by Trillium Mutual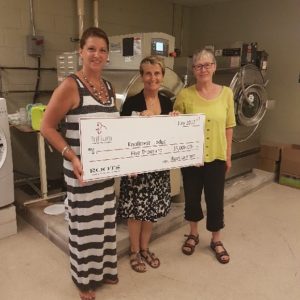 Insurance Company in Listowel, to administer the company's philanthropy program.   Through ROOTS, Trillium continues to provide meaningful financial assistance and support to rural communities in which its policyholder members live and serve.  The Trillium Board of Directors has approved $190,000.00 which will be available for capital projects in 2017 with funding focus in the areas of Healthcare, Recreation & Wellness, Emergency Response (Fire Fighters), Agricultural and Eco/Sustainability.  The next deadline date for applications is September 7, 2017.
More information about the ROOTS "Recognizing Our Opportunity To Support" Community Fund can be found at www.trilliummutual.com
Community Connections Award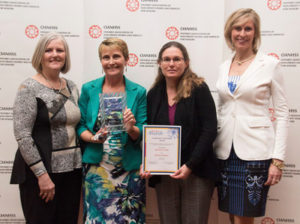 Knollcrest Lodge Recognized for Developing Innovative Solutions to Benefit Community
On April 27th in Toronto, Knollcrest Lodge received the OANHSS "Inaugural" Community Connections Award. The award recognizes initiatives by Ontario non-profit long-term care homes that benefit both the residents of the home and the broader community.
Over the past two decades Knollcrest Lodge in Milverton has expanded to deliver services to the community far beyond those offered by traditional long-term care homes. In partnership with other organizations and service providers, Knollcrest's Wellness Campus provides Perth East residents with access to a wide variety of health-care related services including physiotherapy, optometrist, blood testing and well water testing services. Knollcrest's Community Outreach programs provide Perth East residents with Meals on Wheels, wellness and exercise programs, home maintenance and repair and transportation services.
More
In announcing the award, Debbie Humphreys, Acting Chief Executive Officer noted that "more than 25 years in the making, Knollcrest's Wellness Campus has steadily grown to become so much more than a long term care. It helps people of all ages and offers services never before available in this rural area. It has grown to become a centre of wellness, and it is now a vital, necessary hub for the community"
In accepting the award, Knollcrest CEO Susan Rae thanked Knollcrest's staff and the many community volunteers for their dedication in delivering these vital services to residents of the home and the broader community. ."We are proud of the work we have done to find innovative ways to ensure that residents have local access to the health and wellness services they need."
Perth East Mayor Bob McMillan congratulated Knollcrest for winning the OANHSS Ontario Community Connections Award. "This award confirms what local residents already knew, that Knollcrest plays an important role in ensuring that residents in our rural community have access to the types of services that Ontarians in urban centres take for granted." McMillan noted that Knollcrest's innovative model for delivering rural health related services is one that other rural communities should explore and one for which the Province should increase support.
OANHSS Award 2016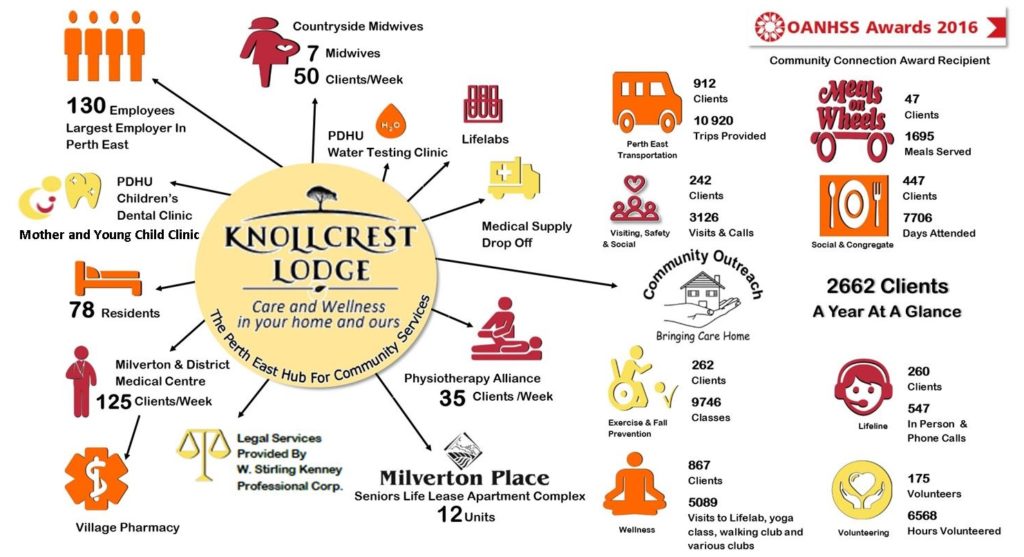 Perth-Huron United Way launches new website to connect new volunteers with non-profits
From the Stratford Beacon Herald
The Perth-Huron United Way has launched a new website to help locals find their perfect match.
The I-Volunteer website was launched Tuesday to help potential volunteers connect with agencies looking for just the right people. The idea is to match a potential volunteer's skills, talents and interests with local organizations to create a long-term relationship.
More
"Today's volunteers range from simply wanting to give a specific amount of time and energy that fits their schedule to individuals that are focused on expanding their skills and talents to achieve new goals," said Tracy Birtch, director of the Social Research and Planning Council. "However finding the opportunity that fits can be a challenge — that's where I-Volunteer Perth Huron steps in."
The website was designed after the Social Research and Planning Council—made up of local residents who collect, analyze and distribute information– released a report that prompted the idea. That study found 90% of organizations locally said they don't have enough volunteers.
The thousands of individuals who do volunteer donate their time to a wide range of activities and often volunteer for more than one organization.
"Improvements can be made to social situations," said Ryan Erb, executive director of the Perth-Huron United Way. "There's no doubt about it. It may take a lot of collaboration but it can be done."
There was plenty of collaboration on this project and the Ontario Trillium Foundation gave a seed grant of $9,800 to ensure the innovative idea got off the ground.
"Some communities might have a brick and mortar volunteer centre but for some communities that doesn't make sense," Erb said.
He cited cost and geography as two reasons why a traditional volunteer centre isn't feasible to cover Perth and Huron.
The decision was made to try creating a virtual volunteer centre instead. That's exactly why the project was attractive to the Trillium Foundation, said Rena Spevack Orr, from the local grant review team. The seed grant is geared toward projects with potential for a big impact but that are untested.
The grant was used to hire a part-time staff member to keep the project on track and for the development of the software in partnership with the University of Waterloo.
Often new volunteers don't know where to start or what kind of experience they want to have, noted Kate Schillings, manager of volunteer services at the Stratford Public Library. She is also a member of Volunteers in Perth, a collection of volunteer administrators.
"VIP brought these concerns to the table and we were delighted when they got picked up," she said.
The website will include resources, places to share stories, a notification option for when matches come in, an area to post a profile and a place for organizations to highlight some of their volunteers.
"We can't wait for this to take off," Schillings said.
The website will have its official launch in Huron County on Wednesday.
The site is available to all non-profits and individuals in Perth and Huron counties.
The address is ivolunteerperthhuron.ca
By the numbers, The Heart of the Community Report
Ninety per cent of organizations report there are not enough volunteers.
More than 90% of volunteers donate their time to more than one organization.
Close to 80% of local volunteers donated 40 hours or more in 2012 and 40% of them have been volunteering for 20 years or more.
The Stratford Festival is an anomaly when it comes to volunteers. The arts organization routinely has a waiting list of about 70 people. Some of them wait as long as four years to become a Friend of the Festival.
Forty per cent of local organizations have between 40 and 100 volunteers.
Three-quarters of not-for-profit organizations get about 10,000 hours of volunteer service a year.